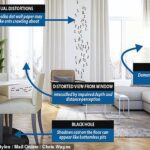 Interactive images reveal how dementia can drastically change the way people see and act in their homes.
The number of informal carers for the 850,000 people living with dementia in the UK.
Source: Source: Lewis et al (2014)
Percentage of people want to stay at home as long as possible after being diagnosed with dementia.
Source: YouGov poll (June 2014)
Percentage of people with Dementia living in the community