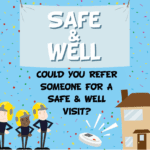 Book or refer a Safe and Well visit with the Fire Service today.
The number of informal carers for the 850,000 people living with dementia in the UK.
Source: Source: Lewis et al (2014)
Percentage of people want to stay at home as long as possible after being diagnosed with dementia.
Source: YouGov poll (June 2014)
Percentage of people with Dementia living in the community